Learning about the impacts of COVID-19 on Indigenous Communities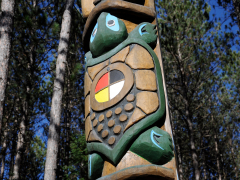 June is Indigenous History Month.
We are thrilled to celebrate the history, heritage and diversity of Indigenous communities. RNAO is proud of its work supporting health interventions in Indigenous communities and partnering with them for capacity development at individual, organizational and system levels.
In honour of Indigenous communities and National Indigenous Peoples Day, which took place June 21, RNAO hosted a special webinar as part of RNAO's COVID-19 Webinar: Together We Can Do It series.
The webinar included speakers: RoseAnne Archibald of Taykwa Tagamou Nation, Mae Katt, NP for Temagami First Nation and Marilee A. Nowgesic, CEO of Canadian Indigenous Nurses Association.
In the webinar, speakers identified five critical processes to support First Nation communities with pandemic plans including pre-outbreak testing and surveillance, physical distancing and isolation, case contact tracing and testing, and personal protective equipment. To learn more, please see the archived webinar.