Learn about RNAO's BPSO and BPG program on Nov. 5 and 8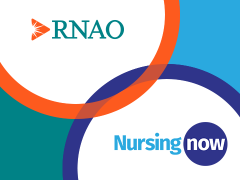 We are thrilled to share that Nursing Now International has invited RNAO CEO Dr. Doris Grinspun to deliver a webinar about RNAO's best practice guidelines and Best Practice Spotlight Organization (BPSO) Program including engaging ways BPGs can be implemented.
She is delivering two webinars (one in English and one in Spanish).
The first webinar will be in English on Nov. 5 at 9 a.m. (EDT) and in Spanish on Nov. 8 at 11 a.m. (EDT) with Dr. Adelaida Zabalegui, Nursing Now board member and vice director of nursing research and teaching at Hospital Clinic Barcelona.
Join the English webinar on Nov. 5 on Zoom: zoom.us/j/492044829
Join the Spanish webinar on Nov. 8 on Zoom: zoom.us/j/753093393