Learn about Ontario Health Teams on Jan. 30: Register online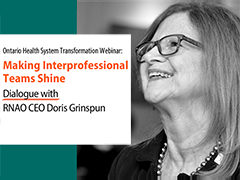 Twenty-four Ontario health teams (OHT) have been introduced by the provincial government to provide an integrated model for organizing and delivering care that will help better connect patients and providers in their communities.
RNAO has been very involved with the provincial government and is working with several OHTs that have been named such as the North Western Toronto OHT, East Toronto OHT (East Toronto Health Partners) and Southlake Community OHT.
We invite you to join us at the next webinar being held on Jan. 30, 2020 from 2-3:30 p.m. (EST) and take part in a dialogue with RNAO's CEO Dr. Doris Grinspun, Greg Hein, Assistant Deputy Minister Digital Health, and partners from Ottawa East Health Team/Équipe Santé Ottawa Est./Équipe Santé Ottawa Est.
Register here: https://zoom.us/webinar/register/WN_nVTJW_ghSHa_cgKoW1u2HQ;