Keywords can help you with your career path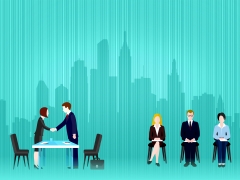 Employers often use applicant tracking systems to sift through applications for job openings applying a number of keywords to narrow down the appropriate candidates. If your documents are missing the keywords, you may be screened out of an interview. Your cover letter and resume are your tools to capture the employer's attention. Using certain keywords in these documents will demonstrate that you fit the requirements of the position and that you stand out in the mass of applications.
You can identify keywords to include in your resume and cover letter by carefully reading job advertisements and identifying the common skills and requirements listed in a number of advertisements. Keywords are often found in the 'qualifications' or 'responsibilities' sections of the job description and can include:
- The minimum educational requirement
- The particular skills (technical or clinical) relevant to the job
- Language reflecting current areas of focus in the health sector (i.e. health promotion, determinants of health, interprofessional practice, person-centered care)
Once you have identified these key words, the information should be customized to the specific job position that you are applying for. Remember you will have to tailor your cover letter and resume to each role. Use keywords, and their synonyms throughout your resume and cover letter.
RNCareers.ca makes it easy to search for keywords when looking for employment opportunities. You can also set up job alerts using specific keywords to alert you when a job matching these keywords is posted. Register today on RNCareers.ca and start incorporating keywords on your profile and resume.