Keep yourself updated on COVID-19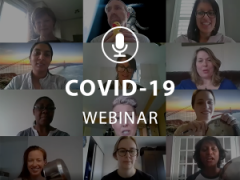 Each week, RNAO's CEO Doris Grinspun holds a weekly virtual town hall to hear the latest news and pressing issues with COVID-19.
These webinars take place every Monday between 6:45 - 8 p.m. (Toronto time). You have the chance to listen to presentations by guest speakers on the frontlines (as available), ask questions and have them answered.
The most recent webinar took place on Monday, May 25 where the topic of discussion was re-opening the province and safe practices with guest speaker Dr. Jeff Powis, chief of Infection Prevention and Control at Michael Garron Hospital. More than 200 participants attended the webinar and learned about determining when to ease public health measures and the trend for new daily cases and daily resolved cases.
To register and see archived webinars, please go to our COVID-19 webinar page.