Keep informed on COVID-19 through RNAO CEO's blog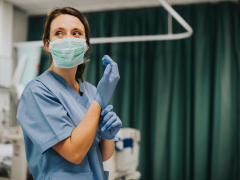 Since the beginning of this pandemic, RNAO CEO Doris Grinspun has been keeping members informed on the latest COVID-19 news and RNAO advocacy through regular blog posts in Doris's COVID-19 blog.
In her blog update on Oct. 24, she notes RNAO's continued media coverage on issues related to COVID-19 and our calls to the Ontario and federal governments for action regarding the alarming rise in the number of infections. This month, we are focusing on two key issues: tightening restrictions in regional hotspots to slow the spread of the virus and addressing the renewed and predictable crisis in long-term care (an issue we've been pushing for years).
On Oct. 2, with 732 new COVID-19 cases that day, the Ontario government announced new measures, mandating province-wide masks in public indoor settings and targeted measures in Ottawa, Peel and Toronto, including restricted indoor capacity in restaurants, bars and night clubs as well as in gyms and event facilities. As stated in an interview with CBC News, RNAO CEO Grinspun said the actions were "too little, too late," adding that RNAO and others have been asking for universal masking since at least June. Although, Premier Doug Ford did listen and announced important measures regarding closures of indoor places in three hotspot regions on Oct. 9, the reality is that the situation today could have been better had we acted earlier.

RNAO is calling on the premier to move immediately to save people from illness, save lives as well as save the economy. In addition, implement RNAO's Nursing Home Basic Care Guarantee.
To learn more, please read RNAO's media coverage this month in RNAO's COVID-19 press room.
Doris's COVID-19 blog is read by more than 200,000 RNs, NPs, RPNs, other health professionals and BPSOs at home and abroad. We are grateful for the feedback we have received and continue to work on informing you about the challenges and inspiration on the frontlines and in the executive rooms. We stand with you and by you in fighting COVID-19 with knowledge, compassion and courage.