Just launched: Weekly video news updates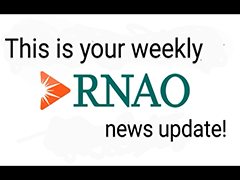 RNAO is excited to bring you its weekly video news updates.
Launched at the beginning of August, the video updates feature information on RNAO's various events and initiatives, as well as topics regarding health care and wellness. These weekly updates will keep you up to speed with your professional association's activities and much more in a fun video format. So far, the updates have featured government announcements, forums, webinars and community outreach, and will continue to keep you up-to-date on the latest news.
Every Sunday, look for RNAO's Weekly News Update on YouTube, Facebook and Twitter and share them with your networks.