Join us at our sixth-annual NP Knowledge Exchange Symposium on Nov. 26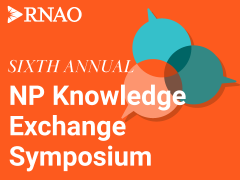 Explore the theme "From Novice to Expert: NP Role Development and Role Actualization" this November at our Sixth-Annual NP Knowledge Exchange Symposium.
On Nov. 26, NPs will have a chance to network collaborate and learn about issues central to NP practice. In addition, check the pulse with other NPs on current barriers and facilitators to NP role optimization.
There is no registration free. This event is open to all NPs in Ontario who are RNAO members as well as government officials.
Register online today to secure your spot. See the agenda on the registration page.