Show your Pride across Ontario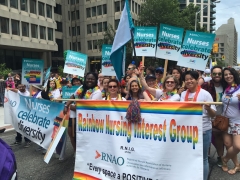 Celebrate and empower LGBTQ2+ communities across the province this summer.
From Ottawa to London, Pride festivals are scheduled in cities across Ontario to support the history, courage and diversity of our community. RNAO CEO Doris Grinspun and the Rainbow Nursing Interest Group marched on the streets of Toronto on June 24 for the 38th-annual Toronto Pride Parade.
Holding flags and signs of support, RNAO members joined thousands of marchers in this event and continued their long-standing tradition of encouraging healthy communities through equality and respect. To commemorate the lives that have been lost to anti-LGBTQ2+ violence, participants wore black armbands, provided by RNIG.
In Kingston, RNAO board member for Region 9 Allison Kern joined colleagues on June 16 to march in the Kingston Pride Parade. To see photos, please visit the RNAO Kingston Chapter Facebook page
For a full list of scheduled Pride festivals across the province, please visit Ontariotravel.net
RNAO and RNIG have been long-time advocates for the province's LGBTQ2+ communities and are committed to diversity and human rights. Please read RNIG's homepage and RNAO's position statement on respecting sexual orientation and gender identity.