Join the #TogetherWeCanDoIt campaign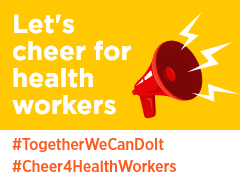 RNAO began the #TogetherWeCanDoIt campaign on March 19, 2020 and it's growing stronger and louder, spreading all over Ontario, Canada and even abroad!
Each evening, the #Cheer4HealthWorkers initiative calls on everyone – from the doorsteps of their homes, back decks, balconies or windows – to cheer at 7:30 p.m. local time for the millions of health providers, social services and other essential frontline workers in Ontario, Canada and around the world engaged in the fight against this virus.
Take a short video of yourself singing a song, whistling, cheering, banging some pots and pans or clapping and share it on social media with the hashtags #TogetherWeCanDoIt and #Cheer4HealthWorkers while also tagging @RNAO and @DorisGrinspun.
Share this campaign with your family, friends and neighbours to get them involved as well. And remember to keep at least two metres apart.
Watch some of the terrific events people are sharing as they engage with the hashtags #TogetherWeCanDoIt and #Cheer4HealthWorkers at home and abroad – and be part of this awesome RNAO initiative!

For more information, please read our media advisory.