Join RNAO's #Maskathon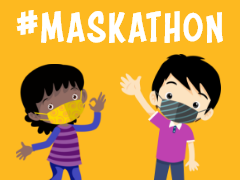 As we continue to battle COVID-19 in our communities and around the world, we must all play a part in staying safe and healthy. We also have to do all we can to prevent a second wave of this virus.
That's why RNAO launched #Maskathon.
#Maskathon encourages you and your loved ones – including children and youth – to wear a mask or face covering in indoor public spaces (schools, playgrounds, shops, malls, other businesses), busy areas and transit. Send us photos via social media (Twitter, Facebook, Instagram) with the hashtags: #Maskathon and #TogetherWeCanDoIt.

You can also now share our social media graphics in French and Spanish.
RNAO's social media campaign builds on #Masks4Canada, an initiative that has moved municipality after municipality, many in Ontario to pass bylaws, making face coverings and masks mandatory in indoor public spaces. Quebec was the first jurisdiction to make masks mandatory for the entire province. Nova Scotia has also announced a province-wide bylaw. RNAO applauds politicians who realize that masks are an additional effective step to reduce the spread of COVID-19 to save lives and mitigate the economic impact of the pandemic.
For a list of Ontario cities and provinces enacting masking bylaws, please see our #Maskathon webpage.
When wearing a non-medical mask or face covering, please remember to wear it all the way up, close to the bridge of your nose and all the way down under your chin. It should also fit snug around your face without gaps.
When you have your mask/face covering on, be sure to take a photo and tag us @RNAO on Twitter, @registerednurses on Instagram, @RNAOHomeOffice on Facebook. For those who do not have social media, but would still like to participate, please send us your photo at maskathon@RNAO.ca and we will share it on our social media channels. Please be sure to also include a caption with your photo (e.g. this is my daughter wearing her mask while grocery shopping with me).
According to the Pan-Canadian Public Health Network, COVID-19 is spread through the contact of respiratory droplets produced by infected individuals when they cough, sneeze or even when they laugh or speak, including by individuals who have not yet or who may never develop symptoms. The wearing of masks or face coverings is an additional personal practice – in addition to washing your hands and practising safe physical distancing – that can help prevent the spread of COVID-19.
For more information, please watch our COVID-19 webinar: Together We Can Do It! on #Masks4Canada.