Join our team: Project lead - Commercial Tobacco Intervention in Indigenous Communities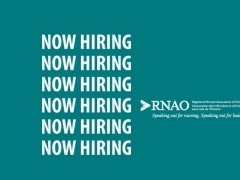 RNAO is seeking a committed, knowledgeable and passionate RN to join the IABPG team.
In this role, you will lead the development of ongoing professional partnerships with Indigenous communities to support the development and implementation of a guideline on commercial tobacco use by Indigenous people (on and off reserve).
Learn more about the position on Jobs at RNAO
You will also assist with execution of key deliverables, including guideline development, report preparation, knowledge exchange events, and preparation of program materials for dissemination.
Candidates with lived experience and in-depth knowledge of Indigenous cultures and communities are encouraged to apply. Please submit your cover letter and resume by Aug. 10, 2018 to humanresources@RNAO.ca