Join our team: Now hiring a nursing policy analyst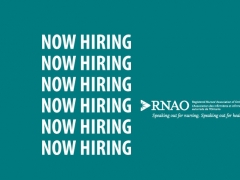 RNAO is seeking a committed, knowledgeable and motivated RN or NP to join its nursing and health policy team.
In this role, your primary responsibilities will be to develop and formulate policy by identifying and analyzing critical nursing practice issues. You will also be an integral contributor to the development of policy positions, policy statements and a variety of other communications and reports.
Learn more about the position on Jobs at RNAO
The successful candidate will be a member of RNAO and the College of Nurses of Ontario as well as have a master's degree in nursing, political science, sociology or a related field. Past and/or current experience in the area of public health nursing, primary care and/or home care and strong knowledge of health and social policy issues is a must in this role.
Deadline to submit your resume and cover letter is May 14, 2018 to humanresources@RNAO.ca