Job opportunity: Director of nursing and health policy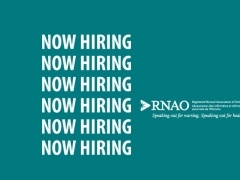 Are you passionate about nursing and health policy? Do you enjoy working with RNs, NPs, nursing students, government officials, and other health professionals? Consider joining the senior management team at RNAO as the director of nursing and health policy.
Learn more about the position on Jobs at RNAO
As the director, you will be responsible for proactively identifying critical issues in nursing, social policy, and health care that impact the role of nurses and the health of the public. You and your team will develop policy, write position papers, develop advocacy plans and present findings and recommendations to the CEO, board of directors and other stakeholders.
RNs or NPs with a master's degree or PhD in a relevant area and five years progressive experience in the field of nursing and/or health policy at a senior level are encouraged to apply. Please submit your cover letter and resume by Jan. 2, 2018 to humanresources@RNAO.ca.