It's never too late to renew/join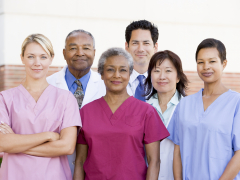 This year, RNAO reached a new milestone in its membership history. Thanks to you, 43,408 RNs, NPs and nursing students belong to RNAO. We appreciate your support and commitment.
RNAO's new membership year began on Nov. 1, but lapsed or new members can still join.
Ask your nursing colleagues if they remembered to renew, and if they have not, remind them to renew today. One of the attractions of belonging to your professional association is the wide variety of benefits. New members are also welcome to join RNAO anytime, and the sooner they do, the faster they will take advantage of all RNAO has to offer.
Membership fees:
- $256.36 if you are an RN or an NP that works full-time
- $175 if you belong to the Ontario Nurses Association (ONA)
- $87.83 if you are an RN or an NP that works part-time (less than 15 hours per week or are on maternity/paternity leave)
-$21.60 if you are a nursing student
- free if you are a new grad
All fees include professional liability protection (PLP) and taxes.
And remember, for every new RN/NP you recruit, you will earn a $20 RNAO gift certificate. For every undergraduate nursing student you recruit, you will earn a $5 gift certificate. If you recruit five new RN/NP members*, your membership for next year is free.
*New members are RNs/NPs or undergraduate nursing students who have never been an RNAO member or associate before or who have not been a member or associate in the last two years.