Invite your colleagues to join RNAO – 14 months for the price of 12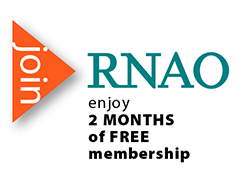 Invite your colleagues to be part of a winning professional association! If you know a colleague who isn't a member, be sure to tell them about this latest offer: RNs and NPs can join now and get 14 months of membership for the price of 12.
regular members pay $256.36
ONA RNs or NPs pay $175
RNs and NPs that are on parental leave, retired or working less than 15 hours/week, pay only $87.83
All prices include professional liability protection (PLP) and numerous additional benefits:
a free copy of Sigma's bestseller Transforming Nursing Through Knowledge (valued at $86.41) about best practices in guideline development and implementation if they join before Sept. 15, 2020
subscription to RNAO's award-winning publication RNJ and monthly newsletter In the Loop
career counselling
networking
leadership development
discounts on home & auto insurance
Tell your friends and co-workers to join the more than 44,000 RNs, NPs and nursing students speaking out for nursing and health. They can join by calling 1-800-268-7199 or going to myRNAO.ca/join.

For every RN and/or NP that joins and includes your name as the "recruiter", you will earn $20 to spend at RNAO. You can earn a free RNAO membership for next year if you recruit five colleagues to join. Learn more online.