Invite your colleagues to join for only $50; nursing students get a free membership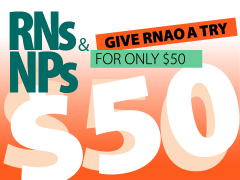 Now for only $50, RNs and NPs who are not RNAO members can join and enjoy all the benefits of RNAO membership.
Nursing students can join for $21.60 and receive a full extra year of membership – Nov. 1 2018 to Oct. 31, 2019.
Membership for RNs and NPs includes professional liability protection (PLP), as mandated by the College of Nurses of Ontario (CNO), discounts for up to 40 per cent on institutes, conferences, workshops and professional development, and RNAO's bimonthly publication the Registered Nurse Journal.
Membership for undergraduate nursing students includes career counseling services, financial services, and involvement at the provincial, local or interest group level.
Memberships are valid until Oct. 31, 2018.
If you recruit five RNs and/or NPs, you receive a free membership next year or receive a $20 RNAO gift certificate for each recruit. For every nursing student you recruit, you receive a $5 RNAO gift certificate. Be sure your recruits include your RNAO membership number on the online registration form.