Introducing the LTC Attending NP Council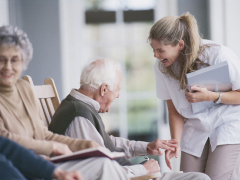 To address concerns and barriers encountered by those working as an attending NP in long-term care, RNAO has formed the LTC Attending NP Council.
The council will meet to discuss facilitators and barriers to the NP role in LTC, opportunities for mentorship, coaching and relationship building, and resources for LTC attending NPs to best function in their role.
We are currently seeking a second co-chair. As a co-chair, you will be in charge of chairing meetings, tracking action items resulting from meetings and liaise with RNAO home office to arrange support for meetings.
For those interested in joining the council or becoming a co-chair, please contact Andrea LeBlanc-Millar at aleblanc-millar@RNAO.ca
For more information, please watch the first meeting that took place on Aug. 2.