Interview with the authors of Transforming Nursing Through Knowledge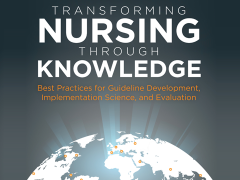 Co-authored by RNAO's CEO Doris Grinspun and former IABPG director Irmajean Bajnok, Transforming Nursing Through Knowledge: Best Practices for Guideline Development, Implementation Science, and Evaluation tells the story of the association's best practice guidelines (BPG) program from its inception in 1998 to the growth and reach the program enjoys today.
The book shows how BPGS are developed, implemented and evaluated. It also provides readers with a behind-the-scenes look at how nurse executives, health-care organizations, and professionals create evidence-based cultures.
Authors Doris Grinspun and Irmajean Bajnok were recently interviewed by the editor of Reflections on Nursing Leadership (RNL) magazine about the BPG program, the role of technology in the program and how the book's contributors helped showcase the impact of the program. You can read the interview here: https://www.reflectionsonnursingleadership.org/features/more-features/pu...
On Sept. 12, Saint Elizabeth (SE) Healthcare will be hosting the SE Futures Open Book club where participants will hear from co-authors Grinspun and Bajnok as well as managing director of SE Global Tazim Virani, and CEO of SE Shirlee Sharkey about Transforming Nursing Through Knowledge. The session will focus on nurses as innovators and the broader theme of "How might our past shape our future?".
For more details and to register, please go to Eventbrite.
RNAO's book is available to purchase at https://www.sigmamarketplace.org/transforming-nursing-through-knowledge.html