Inspire change in nursing and health care: Submit your resolution by Dec. 17 at 5 p.m.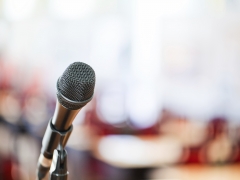 To add your voice to nursing, health and health-care issues, RNAO is encouraging individuals, members, chapters, regions without chapters, and interest groups to submit resolutions for review and discussion at the 2020 AGM.
Please send resolutions along with a one-page backgrounder to Ifrah Ali, board affairs co-ordinator at iali@RNAO.ca no later than Dec. 17, 2019 at 5 p.m.
When submitting a resolution, please note the following:
Resolutions must bear the signature(s) of RNAO member(s) in good standing.
Resolutions submitted on a chapter or interest groups behalf must have been provided to their members for consultation and a formal vote. RNAO home office can assist with the voting process.
A backgrounder (one-page maximum) must accompany each resolution. This single page will include any references. The font used must be no smaller than Arial 10 or Times New Roman 11. Margins must also be reasonable (an absolute minimum of 0.7 all around).
All resolutions will be reviewed by the provincial resolutions committee.
For clarity of purpose and precision in the wording of your resolution, we recommend it include no more than three 'Whereas'; and preferably only one, but never more than two, 'Therefore be it resolved that…'
Submitters of resolutions (or a designated representative who is fully aware of the resolution) shall be required to speak to the resolution at the AGM and to speak to the motion (including attending the informal resolutions session preceding the official AGM business).
Previous resolutions included calls to advocate to all levels of government for Lyme disease prevention programs, for ongoing and collaborative community-based interventions to directly address the mental health challenges faced by Ontario children and youth, and for RNAO to support nurse's psychological health and safety in work environments across all sectors.
To learn more about submitting resolutions, please read our resolutions guidelines  or contact board affairs co-ordinator Ifrah Ali at iali@RNAO.ca.