Improving patient care and privacy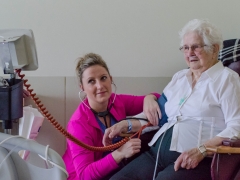 At RNAO, we believe that electronic health records (EHR) can improve care by giving providers access to key health information.
While EHRs can provide health professionals with the information they need to ensure more co-ordinated, person-centred care, the privacy and security of patients' sensitive health information must be safeguarded.
To provide clarity for the use of the EHR, RNAO submitted feedback to the Ministry of Health in regards to the Health Information Protection Act, 2016 and the Personal Health Information Protection Act, 2004.
RNAO's recommendations include:
The need for an option for individuals to opt out of the provincial EHR
The protection of patients' privacy by limiting the amount of personal information that is required to positively identify patients
Giving patients control over and authority to restrict access to their health information, for example blocking out particular time periods
That there be a comprehensive education plan for patients and health-care providers about the provincial EHR, what personal health information it contains, and how to manage access to it
For the full list of recommendations, please read our full submission.