Improving Ontario's correctional system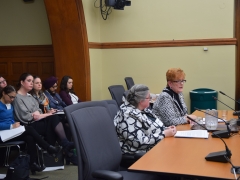 Despite the hard work and dedication of many correctional staff members, Ontario's correctional system is in crisis.
To transform the correctional system, RNAO made a presentation before the Standing Committee on Justice Policy on Bill 6: Correction Services Transformation Act on April 19.
This bill looks at the province's approach to rehabilitation, public safety and the protection of the human rights and dignity of persons in custody.
RNAO Senior Policy Analyst Lynn Anne Mulrooney and the Ontario Correctional Nurses' Interest Group President Shirley Kennedy spoke about RNAO's recommendations including implement the recommendations by the Independent Review of Ontario Corrections' (IROC), which would benefit the most marginalized Ontarians: those who work within the correctional system, and the broader community.
RNAO's other recommendations include stop accepting immigration detainees into provincial correctional facilities and continue the government's promise to transfer responsibility for health-care services from the Ministry of Community Safety and Correctional Services to the Ministry of Health and Long-Term Care by 2019.
For more information, please read our speaking notes or submission.