Improving the last stages of life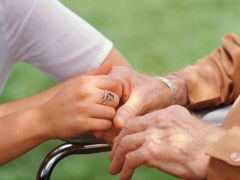 In Ontario, the law shapes the rights, choices and quality of life for persons who are dying and those who support them.
That's why on Aug. 16 and Aug. 18, RNs and NPs came together to discuss their experiences helping patients through the dying process as well as their thoughts on equitable care, Ontario's laws and programs, and end-of-life challenges.
In partnership with the Law Commission of Ontario (LCO) for their project Improving the Last Stages of Life, RNAO heard from nurses about a range of issues including equitable access to palliative care, caregiver benefits, aspects of medical assistance in dying, supports for faith and cultural communities and dispute resolution.
Feedback from these consultations will be used to better identify and recommend law reforms that are concrete, precise, and responsive to the experience of persons in the last stages of life.
If you would like to share your experience or thoughts, please read more about LCO's public consultations between June and September 2017.