How RNAO benefits NPs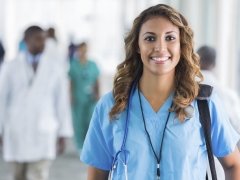 For decades, RNAO has advocated for NPs, delivered results and celebrated NP achievements. As an NP member, you are also protected by RNAO's professional liability protection (PLP).
On Oct. 26 at the Association of Family Health Teams of Ontario conference, Roberta Tasson, RNAO's PLP broker representative, gave a presentation to NPs about the key aspects of PLP such as the scope of coverage provided by the service, the lower price of RNAO's PLP, and its 24/7 coverage.
NPs were also given letters with updates about the current NP issues RNAO is speaking out for: addressing the gaps in NP scope of practice, having the NP anaesthesia role actively utilized, granting NPs the ability to perform point-of-care testing and many more. To read the letter, please see the document below.