Host a visit with RNAO's president or CEO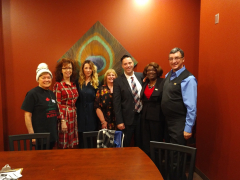 Would you like to learn more about RNAO's president Angela Cooper Brathwaite and CEO Doris Grinspun? Do you have thoughts or questions related to your practice you would like to share?
Host a visit with your chapter, region or interest group for RNAO's annual Fall Tour between Oct. 8 – Nov. 29.
Host a visit with RNAO's president or CEO
Now entering its fifth year, the Fall Tour is an opportunity for members to discuss local matters of importance with RNAO's president and CEO, as well as receive an update on RNAO's key health policy initiatives.
If you are interested in organizing a visit, please let your chapter or region president or your interest group chair know, and fill out the quick and easy online application.
All requests will be considered on a first come, first served basis.