Hospital del Trabajador in Chile joins RNAO's Best Practice Spotlight Organization Program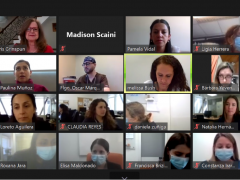 Hospital del Trabajador from Chile signed an agreement with RNAO in October to become a Best Practice Spotlight Organization and work to implement evidence-based practice at the individual, organization and health system levels
Hospital del Trabajador is a level 1 trauma centre that provides prevention services as well as health-care attention and salary compensation for work-related accidents and illnesses. Because of its expertise and outstanding results, the hospital is recognized as a national and Latin American leader in trauma and orthopedic, burn-injured patients and rehabilitation health centre.
The health-care centre will work to implement two of RNAO's best practice guidelines: Person- and Family-Centred Care and Assessment and Management of Pressure Injuries for the Interprofessional Team.
The announcement comes as Hospital del Trabajador began their champions training workshop in October where about 60 participants from the health centre learned about the champions role including how to implement evidence-based practices and changes in clinical areas of practice, paying specific attention to the BPG Person- and Family-Centred Care. In addition, the workshop taught participants about the existing resources for implementation and how champions support monitoring and evaluation of BPG implementation.
To learn more about this announcement, please read the media release below.