Hiring now: Long-term care BPG senior program manager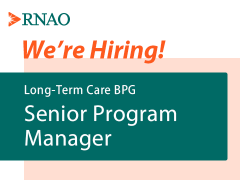 Are you an accomplished RN with leadership skills? Do you have a passion for best practice guidelines (BPG) and for the long-term care sector?
RNAO is seeking an RN to join the long-term care program, funded by the Ministry of Health and Long-Term Care.
Working from RNAO's office in Toronto, you will provide the leadership and strategic direction to support the dissemination, implementation and evaluation of RNAO's BPGs in the long-term care sector as well as our 54 long-term care Best Practice Spotlight Organizations (BPSO).
With your team of 14 RN long-term care coordinators, you will identify performance measurement, quality improvement, knowledge transfer and capacity building activities that link BPG implementation to improved resident care and outcomes.
If you are interested in applying you must have a master's degree, be currently registered with the College of Nurses of Ontario and have prior experience as a director of care in the long-term care sector. More information can be found on Jobs at RNAO.
Please submit your resume to humanresources@RNAO.ca by Aug. 15, 2019.