Help stop changes to ODSP definition of disability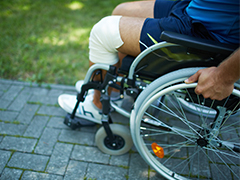 In November, the government announced its intention to more closely align the Ontario Disability Support Program (ODSP) definition of disability with the far more restrictive federal (Canada Pension Plan) definition.
As nurses we know a more restrictive, less inclusive definition of disability would cause great harm to Ontarians as they may be forced to access the Ontario Works program with a corresponding cut in critical income benefits and supports instead of the more appropriate service, the Ontario Disability Support Program (ODSP).
That's why RNAO is urging the provincial government to not change the definition for disability and keep it the same.
The current ODSP definition better reflects the realities of people's lives by considering the "substantial" rather than "severe" levels of disability; the recurrent or continuous disabilities expected to last at least one year and the impacts of disability on activities of daily living such as personal care, community and workplace.
A strict criteria of disability as severe and prolonged does not reflect the current understanding of some debilitating conditions that can be episodic and recurring.
For more information please read our letter.