Heart-to-heart conversation with nursing colleagues: Register for the Aug. 18 open forum session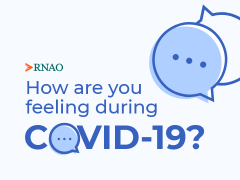 RNAO continues to facilitate important conversations among nurses at monthly open forum sessions. The next session will focus on the experiences of nursing students' as they complete their education and transition into the workforce. Nursing students, new grads and educators will join the discussion to share their hopes, needs and concerns as they navigate nursing during a global pandemic.
Thousands of Ontario nursing students will be entering the nursing workforce at a critical time in history for health care – one where structural inequities and system failures have been highlighted and where nurses, exhausted from relentless waves of the pandemic, are facing burnout and considering leaving the profession in larger numbers than usual. But without nurses, the health-care system will collapse.
RNAO is issuing a call to ensure the next generation of nurses thrives in the profession.
All Ontario nurses are invited to register to join the forum on Aug. 18 at 2:30 p.m. ET.
At the last heart-to-heart session on June 16, nurses dove into the topic of using their voices in traditional and social media to advocate for change. Nurses' voices are being heard and call for changes are being acted upon. Now is the time to become even louder, and RNAO will support you every step of the way.
Learn more about the open forum series.