Health organizations plead Ontarians to celebrate holiday season safely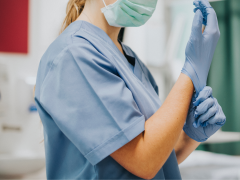 Given the alarming modelling numbers outlined in a media conference on Dec. 10, RNAO along with the Ontario Hospital Association, Ontario Medical Association, Registered Practical Nurses Association of Ontario (WeRPN) and Respiratory Therapy Society of Ontario re-issued its call for the provincial government to put in place strong public health measures that will prevent and control the spread of the virus.
As well, we call on Ontarians to do everything they can to curb the spread of the virus, save lives and limit the damage. This includes: washing hands often, wearing a mask or face covering at all times unless at home with housemates or outdoors at a guaranteed two metres' distance from others, staying away from crowded places, celebrating or gathering only with members in the household and preparing for contact tracing if COVID-19 positive (downloading the COVID Alert app and/or keep track of where you go and when).
In the Dec. 10 media conference, Adalsteinn Brown, dean of the University of Toronto's Dalla Lana School of Public Health and co-chair of Ontario's COVID-19 science advisory board revealed that COVID-19 cases and hospitalizations could continue to rise if public health restrictions are relaxed. In addition, if infections grow at a rate of three per cent over the next month, we would end up with roughly 5,000 daily cases and nearly 400 people in the ICU by Jan. 8.
We know that fatigue with public health restrictions has set in and that it is particularly painful to cancel traditional family gatherings – but this sacrifice pales in comparison to the pain of losing a loved one or watching them suffer.
In the spirit of love, family and generosity that characterizes the holiday season, we ask all Ontarians to celebrate safely and responsibly.
To read our full statement, please go online.