Health minister proposes new vaping regulations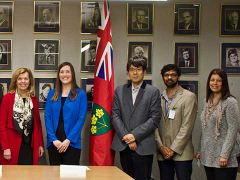 In late February, Ontario's health minister announced new regulations that will only allow flavoured vaping products with the exception of mint, menthol and tobacco flavours, to be sold in specialty vape shops. In addition, high nicotine products, with more than 20 mg of nicotine per ml, will be restricted to specialty vape stores.
The news is being welcomed by RNAO as a good step forward to clamping down on the selling and promotion of vaping products. However, RNAO still calls on the government to increase the purchase age for vaping products to 21, as numerous U.S. states have done. In Ontario right now, the age limit is 18.
RNAO program manager of RNAO's Mental Health and Addiction Initiative, Sabrina Merali (pictured on the far right) says the government also needs to require that vaping products not exceed nicotine levels of 20 mg/ml and increase the taxation of vaping products.
From 2017 to 2018, vaping among Canadian youth between the ages of 16 to 19 increased by 74 per cent. It's important that we act now to stop more youth from vaping.
Ontario expects the proposed regulations, if approved, would come into effect on May 1, 2020.