Have your say on RN prescribing: Deadline Feb. 18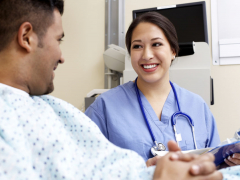 In 2017, the Ontario government amended the Nursing Act to authorize RNs to communicate a diagnosis and to prescribe medication. The College of Nurses of Ontario (CNO) has now shared for comment the proposed regulation changes for expanding the RN scope of practice.
RN prescribing has huge potential to increase people's access to care and to increase efficiencies in our health system. RNs work in all health sectors throughout Ontario and their diverse distribution throughout the health system positions them to meet the unique needs of Ontarians.
RNAO has long advocated for independent RN prescribing as the best model to implement this expanded scope of RNs. Independent RN prescribing has been demonstrated to have positive outcomes on access, safety and person-centred care.
To see our feedback to the CNO about independent RN prescribing, please read our full submission.
To share your feedback, please sign our action alert and share it with your networks. You can edit the subject line and email message to add your own thoughts and experiences.
In addition, please complete CNO's questionnaire. The deadline is Feb. 18, 2019.