Have your photo published on RNAO.ca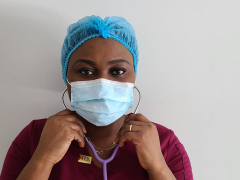 Do you have a talent for capturing nursing through photographs? Would you like to see your photo on RNAO's website and more?
RNAO is inviting you to share photos that highlight the work and role of nurses in clinical settings. This may be a photo of you at your work station, working with colleagues or a photo with your nursing equipment. It's up to you to provide an inside look of being a nurse.
Your photo(s) may be used on RNAO's website, In the Loop, social media channels and other promotional materials.
To submit a photo today, please use the myRNAO.ca dropbox and fill out the following online permissions form.
Thank you to those who have already submitted photos to RNAO. If there are more photos you would like to share or know someone who may be interested in submitting a photo, please share the dropbox link with them.
For questions, please contact web-editor@RNAO.ca.