Have your photo published on RNAO.ca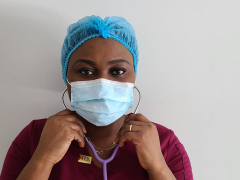 Would you like to see your photo in RNAO's communications materials? Do you have a talent for capturing nursing through photographs?
RNAO is inviting you to share photos that highlight the work and role of nurses in clinical settings. This may be a photo of you at your work station, working with colleagues or a photo with your nursing equipment. It's up to you to provide an inside look of being a nurse.
Your photo(s) may be used on RNAO's website, In the Loop, social media channels and other promotional materials.
Requirements:
Only RNAO members can submit photos.
All photos must be original work. No third party may own or control any materials the photo contains, and the photo must not infringe upon the trademark, copyright, moral rights, intellectual rights, or rights of privacy of any entity or person.
Photos must be as high-resolution as possible.
Photos must be in its original state and cannot be altered in any way, including but not limited to removing, adding, reversing or distorting subjects within the frame.
Subjects included in the photograph must provide clear, informed written consent for the photograph to be taken. A consent form can be found below.
Photos taken in your workplace must have your employer's permission to share.
Photos can be posed or candid.
Please wear your RN or NP pin in photos.

To submit a photo today, please use the myRNAO.ca dropbox.

For questions, please contact web-editor@RNAO.ca.