Hamilton hospitals and surrounding areas providing self-isolation pay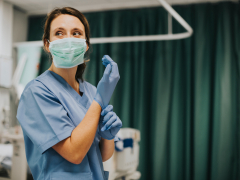 Thanks to RNAO's advocacy, hospitals in Hamilton, Niagara, Brant, Haldimand and Norfolk counties are providing staff with temporary self-isolation pay.
This includes:
- Brant Community Healthcare System
- Haldimand War Memorial Hospital
- Hamilton Health Sciences
- Joseph Brant Hospital
- Niagara Health
- Norfolk General Hospital
- St. Joseph's Healthcare Hamilton
- West Haldimand General Hospital
During the first wave of COVID-19 infections, the Ford government put in place job protection for those workers who have to self-isolate, along with pay for those workers. While the job protection legislation remained intact, health-care workers were no longer given self-isolation pay through the Ford government.
In response, RNAO called on health-care organizations such as the Ontario Hospital Association to help with ensuring the burden of sick time was not put on the "back of nurses". In an interview with CHCH, RNAO CEO Doris Grinspun said "I'm glad that this is the first one we hear that the entire region has decided to reconsider the approach."
In addition to self-isolation pay, RNAO continues to call on the Ford government to cover paid sick days to protect workers who do not have access to them as part of their employment. PEI and Quebec already have access to paid sick days and RNAO is urging the government to provide 10 paid sick days for workers who don't have access to this employee benefit.
For more information about Hamilton Hospitals providing self-isolation pay, please read the CBC article. To learn more about our call for paid sick days, please see our joint letter to Premier Doug Ford on Jan. 14, 2021.