Government responds to RNAO's call for increased enrollment in nursing education programs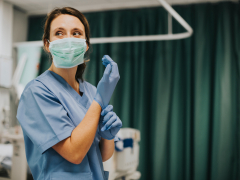 RNAO's Work and Wellbeing Survey showed an alarming number of young registered nurses (RN) plan to leave the profession post-pandemic. In addition, an even higher proportion of late career nurses intend to retire. These anticipated scenarios threaten to worsen the already high RN vacancy rates across the health-care system brought on by illness or pandemic burnout. There is also an urgent need to increase the supply of nurse practitioners (NP) across all sectors and settings. NPs in Ontario improve access to primary care, acute care and long-term care.
In an April 28 joint letter to the Ontario government, RNAO and the Council of Ontario Universities (COU) asked to immediately increase the intake into baccalaureate nursing programs as well as NP programs in the province, starting with the fall 2021 semester.
On May 12, RNAO and COU issued a media release insisting the premier immediately fund an increased intake of BScN and NP students.
On May 14, the Ontario government announced it will invest $35 million to increase enrollment in nursing education programs in publicly-assisted colleges and universities across the province. The new spaces will be available for fall 2021 and winter 2022 cohorts and will introduce approximately 1,130 new practical nurses and 870 RNs into the health-care system. The government also announced the expansion of clinical education placements for nursing students and personal support worker students in the long-term care sector.
The government's announcement partially addresses RNAO's call to increase university seats in baccalaureate nursing programs, however, it is insufficient in response to the demands on RN and NP care during and post-pandemic.