Government proposes support for front-line nurses with PTSD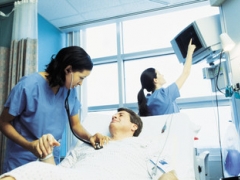 After two years of relentless advocacy by RNAO, the government announced on Dec. 6 it intends to introduce legislation that will include all front-line nurses who provide direct patient care as first responders. The announcement means nurses suffering from post-traumatic stress disorder as a result of a workplace-related incident will receive faster access to benefits, treatment and support.
In response to the news, RNAO released the following statement:
"We commend the government for recognizing that nurses are responders and must be included in legislation granting them access to treatment for work-related Post-Traumatic Stress Disorder (PTSD). We know on any given day, RNs, NPs and RPNs face violence and suffer trauma just as police officers and paramedics do. Nurses represent the largest workforce in the province's health system and we believe this is an important step to recognizing and protecting nurses," said Doris Grinspun, RNAO's Chief Executive Officer.
RNAO has been a strong supporter of nurses suffering from PTSD and has issued numerous action alerts for nurses to be included in the PTSD legislation Supporting Ontario's First Responders Act (Post-traumatic Stress Disorder, 2016).
Thank you to almost 15,000 individuals who signed our action alerts.
Grinspun added that RNAO will continue to push that all nurses in all roles be included in the government's legislation. To learn more about the announcement, please read the government news release.