Government's reopening plan threatens the health of Ontarians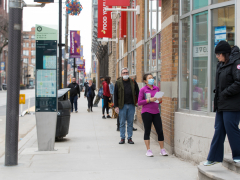 The government's reopening framework is threatening people's lives, the collapse of the province's health system and the closing of schools.
The government's announcement on March 26 that Hamilton is moving into the grey-lockdown zone and the regions of Timiskaming and Eastern Ontario are moving into the red zone provide further proof that a third wave of COVID-19 could engulf vast sections of the province.
Yet, on Friday, March 19, the government announced it was increasing capacity limits for indoor dining in selected regions designated in the red and orange zones. It also gave the go-ahead for outdoor dining in regions that have been placed in the grey-lockdown zone. Large numbers of people have been gathering since.
Rather than opening up parts of the province, RNAO says the government should strengthen restriction of movement to enable the health system to cope. In addition, the government should ensure those nurses, particularly those who work in primary care and home care – close to 20,000 – are fully utilized in the province's vaccine rollout. This is something RNAO has been advocating for and outlined in a letter sent to the premier and health minister in February.
RNAO also says continuing to relax public health measures at a time that the spread of the virus is increasing will likely result in the closing of schools in various regions of the province, which would be devastating for children.
To learn more about RNAO's response to the lockdown measures and vaccine rollout, please read our media release.

Premier Doug Ford made an announcement on April 1 calling for a provincewide emergency brake. It will come into effect on Saturday, April 3, 2021, at 12:01 a.m. and the government intends to keep this in place for at least four weeks. See the tweet from RNAO's CEO Doris Grinspun in response to the announcement. Also, stay tuned for Doris' COVID-19 Blog this weekend to learn about RNAO's full response to this announcement.