Global Day of Action for Climate Justice is on Nov. 6: Join the rally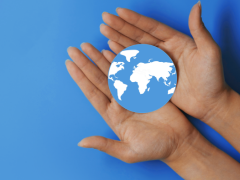 RNAO is mobilizing for climate action.
Join RNAO's CEO Dr. Doris Grinspun and RNAO members at Queen's Park in Toronto on Nov. 6 at 1 p.m. ET to rally for climate justice.
The Global Day of Action for Climate Justice was established by COP26 Coalition, a UK-based civil society coalition of groups and individuals mobilizing around climate justice. World leaders and experts will be in Glasgow on Nov. 6 at the global climate talks, COP26 and the decisions made will shape how governments respond to the climate crisis globally.
Submit your RSVP online and tag @RNAO on Twitter alongside #GlobalDayofAction to let us know you'll be attending. As a reminder, please wear your mask to the rally, maintain physical distancing and abide by all public health measures.
Sign and share RNAO's Action Alert to demand climate justice now.