Give a warm welcome to the first BPSO direct under BPSO Host Hôpital Montfort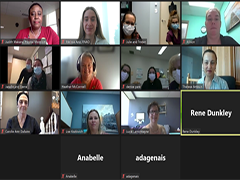 RNAO and Hôpital Montfort welcome Sensenbrenner Hospital in Kapuskasing, Ont. to the Best Practice Spotlight Organization (BPSO) program as a BPSO pre-designate and the first BPSO direct.
Sensenbrenner will work with Hôpital Montfort in its role as a specialty BPSO host, with a focus on Francophone service organizations. It's a bilingual, family-oriented and community-governed 53-bed hospital that provides a wide range of services to the community within a catchment area from Opasatika to Fauquier.
The Montfort and RNAO coaching team conducted a virtual BPSO orientation over three sessions in October, welcoming more than 15 members of Sensenbrenner's interprofessional team. This orientation focused on their goals as a BPSO, and the role that RNAO and Hôpital Montfort would play in supporting their success. Participants included direct care clinicians, and administrative and support staff. Sensenbrenner has selected three best practice guidelines (BPG) for implementation within their hospital, including Preventing Falls and Reducing Injury from Falls, Palliative Approaches to Care and Care Transitions.
To learn more about the BPSO program, visit RNAO.ca/BPG/BPSO.