Give a gift to yourself and others: Earn a free membership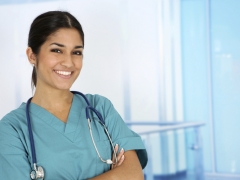 If you recruit just five RNs/NPs or new grads to join RNAO, you will receive your next RNAO membership for no charge.
If you recruit one to four RNs/NPs or new grads you will receive $20 "RNAO dollars" for each RN/NP or new grad who joins. You can use these dollars toward your membership renewal or an RNAO conference registration.
RNAO's membership fee – inclusive of PLP and all other benefits - is only $256.36 for RNs or NPs that works full-time; $175 if they belong to ONA; or $87.83 for RNs or NPs that work part-time (15 hours less per week).
Keep reminding your nursing colleagues to "get 5" and reap the rewards. Be advised that new grads* can join RNAO for free making them easy recruits. Membership includes professional liability protection (PLP) as well as other exclusive membership benefits.
*Those who have graduated from an undergraduate nursing program, leading to initial "RN" registration with the College of Nurses of Ontario (CNO), within the past 12 months.