#FullyVaccinated hall of fame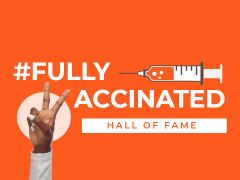 Our #FullyVaccinated hall of fame is now available to view.
RNAO launched the #FullyVaccinated social media campaign this summer to encourage Ontarians to receive both doses of the COVID-19 vaccine. As a part of the campaign, Twitter and Instagram users were asked to send RNAO a photo of themselves before, during or after receiving their COVID-19 vaccine along with their reason for receiving it using "#FullyVaccinated." RNAO received many incredible submissions, and have featured many in its official hall of fame.
Now that fall is among us and the Delta variant continues to spread rampantly, it's more important than ever to protect yourself and others from the COVID-19 virus by receiving both doses and encouraging others to do the same.
Check out the #FullyVaccinated hall of fame online. While you're online, download and share hall of fame graphics for your social media accounts.