Free event: Hear from these inspirational speakers on Dec. 17 and 18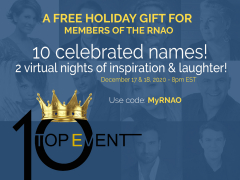 RNAO's Peel Chapter is happy to invite RNAO members to the Top Ten Event where 10 speakers will share an inspiring message of hope and resilience to end off 2020.
On Dec. 17 and 18 at 8 p.m. ET, speakers such as Mark Breslin, founder of Yuk Yuk's Comedy Clubs; Alan Cross, legendary radio host; Jessica Holmes, award-winning actor and comedian and many more will go live virtually to entertain, inspire, create laughter, and celebrate the contributions of frontline workers.
Stuart Knight, the founder and host of the Top Ten Event has extended RNAO members a special RSVP code to virtually attend for free.
Please visit the event registration page and click on the green button "Tickets" where you can enter at the very top left-hand corner the promo code MyRNAO and click "Apply". Proceed to check out and enter contact info to get your free ticket. You will receive login instructions via email just before the event begins on Dec. 17. An email will be sent with the YouTube channel details. To learn more about the event, please go to toptenevent.com.