Fall Tour: RNAO hears from members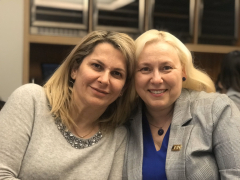 Celebrating the fifth-annual Fall Tour, RNAO's leaders travelled across the province in October and November to hear about the important issues nurses and nursing students believe should be front and centre for political leaders during Ontario's health system transformation and Canada's new government.
RNAO's president Angela Cooper Brathwaite and CEO Doris Grinspun visited members in Barrie, Guelph, Mississauga, North York, Sault Ste. Marie, Toronto and Windsor, hearing their experiences and how we can better meet the needs of Ontarians.
As the professional association for 43,408 RNs, NPs and nursing students, RNAO values and acts on its members' voices as they know best how government decisions affect people's health outcomes.
RNAO thanks deeply all chapters and regions that participated this year as well as all the RNs, NPs and nursing students who came out to these visits to voice their thoughts and ideas.
To see the media coverage from the Fall Tour, please see RNAO in the News. To see photos from the Fall Tour, please check out our photo gallery.