Fall Tour (Nov. 15-19): Host a virtual visit with RNAO's president or CEO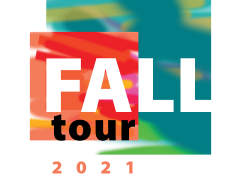 Would you like to learn more about RNAO's advocacy during COVID-19 and other top priorities of the association? President Morgan Hoffarth and CEO Dr. Doris Grinspun are excited to hear your thoughts, ideas and questions related to RNAO and your practice.
Our annual Fall Tour will be virtual this year due to COVID-19. Members will have an opportunity to discuss local matters of importance, as well as receive an update on RNAO's key successes during the past year. This seventh annual Fall Tour will take place from Nov. 15 – 19, 2021. Our president and CEO will each virtually visit a different community or region.
If you are interested in organizing a visit, please let your local executive know, and fill out the quick and easy online application by Wednesday, Sept. 15.
All requests will be considered on a first come, first served basis. Priority will also be given to those who did not host a visit last year.