Fall Tour: Meet RNAO's leaders in your community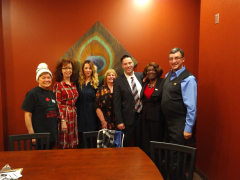 Would you like to meet RNAO's nursing leaders? Do you have questions or thoughts to share about your experience as an RN, NP or nursing student?
Celebrating our fifth-annual Fall Tour, RNAO president Angela Cooper Brathwaite and CEO Doris Grinspun will be visiting communities across the province to check in with nurses and hear their views on any issues related to their practice or the health system.
In addition, speak about RNAO's federal election platform A platform for a healthy Canada, which highlights nine recommendations members have been vocal about.
Participating chapters/regions will be hosting a meet and greet for members and non-members to attend. Please see the following to see if a visit is taking place in your community.
RNAO's fifth-annual Fall Tour details:
Sault Ste. Marie: Oct. 8 from 7 to 9 p.m. in the Sicoli Room at Grand Gardens North, 1324 Great Northern Rd.
Mississauga: Oct. 17 from 6 to 8 p.m. in Room 2-351 in Region of Peel, 7120 Hurontario St. – register online
Barrie: Oct. 24 from 6 to 9 p.m. at Monte Carlo Inn, Barrie Suites, 81 Hart Dr. – register online
Visits will also be taking place in Guelph and Toronto. Please check back for details about later visits.

Join the conversation by using the hashtag #RNAOfalltour in your social media posts.