Fall Tour goes virtual: Celebrating our successes with members between Nov. 10-18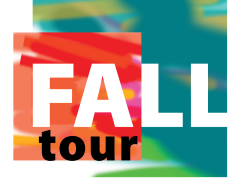 Would you like to hear from an RNAO nursing leader? Do you have questions or thoughts to share about your experience as an RN, NP or nursing student?
Celebrating our sixth-annual #FallTour, RNAO President Morgan Hoffarth and CEO Doris Grinspun will be virtually visiting communities across the province to check in with nurses and hear their views on any issues related to COVID-19, their practice or the health system more broadly.
They will also speak on the successes and achievements this year including our relentless advocacy to ensure nurses have what they need to fight COVID-19 on behalf of Ontarians and our call to action to the federal and provincial governments to adopt national standards modelled on the Nursing Home Basic Care Guarantee.
Participating chapters/regions will be hosting a meet and greet for members and non-members to attend via Zoom. Please see the following chapters/regions hosting one this year:
Region 8 - Durham Northumberland Chapter, Quinte Chapter and Kawartha-Victoria Chapter – Nov. 10 at 6 p.m. ET
Wellington Chapter – Nov. 12 at 6 p.m. ET
Region 11 – Nov. 13 at 1 p.m. ET
Windsor-Essex Chapter, Chatham-Kent Chapter, Community Health Nurses' Initiatives Group and Peel Chapter – Nov. 16 at 7 p.m. ET
Hamilton Chapter – Nov. 17 at 6 p.m. ET
Waterloo Chapter – Nov. 17 at 6 p.m. ET
Kingston Chapter – Nov. 18 at 6 p.m. ET
If you have any questions, please email Victoria Alarcon at valarcon@RNAO.ca and PG Batten at pgbatten@RNAO.ca. Join the conversation by using #FallTour in your social media posts.