Fall Tour: Invite RNAO's President and/or CEO to your community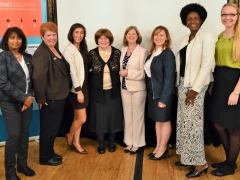 Plans are underway for RNAO's 3rd annual President and CEO Fall Tour. If you want to meet the president or CEO, we want to know.
Last year's tour featured RNAO President Carol Timmings and CEO Doris Grinspun as they travelled during the same week, around the province visiting six communities and meeting with dozens of members.
This year's tour is taking place between Monday, Oct. 2 and Friday, Oct. 6. President Carol Timmings and CEO Doris Grinspun would like to visit different communities from last year. We've listed possible dates below:
- Carol – October 4, 5, 6
- Doris – October 3, 4, 5, 6
This event will provide an opportunity for chapters or regions to discuss local challenges and opportunities, as well as receive an update on RNAO's key initiatives. We encourage members of interest groups to tag along with those chapters and regions that apply to host visits.
All requests will be considered on a first come, first served basis. Please note that priority will be given to those who did not host an event last year.
If you are interested in organizing a special chapter or region meeting for your members, or if you already have a meeting scheduled on the dates above, please feel free to email Josephine Mo, executive assistant to Doris Grinspun, at jmo@RNAO.ca by Aug. 18, 2017.
We look forward to another exciting round of fruitful discussions.