#FabFeb: Free nursing student membership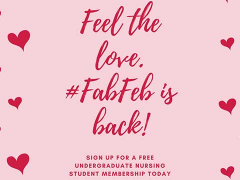 Just a few hours remain to take advantage of a special membership offer for undergraduate nursing students. Do you know someone who isn't a member of RNAO? Let them know that they can join RNAO for free until Feb. 29, 2020 at 11:59 p.m.
RNAO offers so many opportunities that can help with your career aspirations. One benefit is the chance to attend the student board placement. Each year, nursing students are invited to take part in RNAO assembly and board meetings to learn more about the association and its work. This year, 20 students from across Ontario also got the chance to join in Queen's Park Day.
Undergraduate nursing students (including those in RPN to RN bridging programs and accelerated types of bachelor degree programs) can take advantage of this offer by simply going to myRNAO.ca/join and selecting "Undergraduate Nursing Student Associate" from the drop down menu.
Complimentary memberships are valid until Oct. 31, 2020 and offer a host of benefits including:
networking opportunities
involvement at the provincial, local or interest group level
political influence and action
RNAO's award-winning digital journal RNJ