Eighth-annual Nurse Executive Leadership Academy a success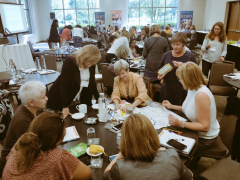 Celebrating governance and leadership, this year's Nurse Executive Leadership Academy saw more than 70 nurse executives come out to engage with key leaders, experts from the government, policy-makers and other leading edge thinkers.
At the White Oaks Conference Resort and Spa at Niagara-on-the-Lake, the event brought together a variety of speakers to share their expertise with nurses on Sept. 24-27.
Included on the list of speakers was Dr. Judith Shamian, past president of the International Council of Nurses, Wendy Nicklin, president of the International Society for Quality in Health Care and Dave Fasano, member of Ontario's Minister of Health's Patient and Family Advisory Council.
This event encouraged individuals to build on their personal and professional networks and reaffirmed the critical role of the nurse executive leader.
Planning is already underway for the 2020 Nurse Executive Leadership Academy.