Earn a free membership before Aug. 5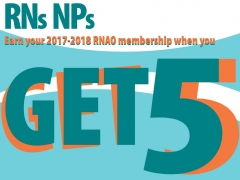 It has just become easier for you to earn your next membership.
When you recruit five RNs/NPs or new grads to join RNAO, you will receive your 2017-18 membership for free.
If you recruit one to four RNs/NPs during the campaign period, you will receive $20 "RNAO dollars" for each RN/NP who joins. You can use these dollars toward your 2017-18 membership renewal or RNAO conference registration.
"Get 5" is a limited-time offer. This special promotion ends on Saturday, Aug. 5 at 11:59 p.m.
Don't forget to also tell your colleagues RNs/NPs can join for $50 and new grads can join for free. This includes professional liability protection (PLP) as well as other exclusive membership benefits.